If you are interested in how to clean your vehicle headlights on your own, or you have ever struggled with getting your vehicle headlights clean, you will probably find the content on this page useful. When it comes to your vehicle, you are in charge. You can choose to not go to the professionals and do it yourself. If this is what you want, then this guide will help you clean your headlights by yourself.
In this post, I will share with you the methods and tips to clean your vehicle headlights yourself, things you need and answers to some of the questions you may have about cleaning it.
How can you clean your vehicle headlights yourself?
You can very effectively clean your vehicle headlights yourself through a very simple process using commonly available cleaning agents. To do this satisfactorily, all you require are a mixture of toothpaste and baking soda (where that is available), a toothbrush, spray bottle, a piece of clean cloth or towel, and lukewarm water.
Here is the process to begin with:
you should apply the toothpaste (preferably colgate) to the plastic with the help of the tips of your fingers. Note that if there is a tint on the headlights, you may have to take that out first.
use the toothbrush to either rub or brush the toothpaste on the headlight lens for a period of between 5 to 10 minutes until when it begins to appear cleaner.
next, use water and soap to thoroughly wash up the headlights. Next, allow it to dry very well before you use painter's tape to protect both the paint and the plastic components around the headlights.
then use about 5 spoonfuls of baking soda in a container before you mix it up with water to produce a paste.
after making sure that you have given the headlights a proper cleaning, you should then apply the paste containing baking soda to the headlights with the corner of a sponge.
finally, polish the headlights using a clean cloth in small circular movements. In some cases, people use soaked sandpaper, after which water may come out of the headlight like ice. This water coming out will most likely look dirty, which implies that you are removing the oxidation that is the cause of the dirty headlights in most cases.
Few tips to keep in mind
You should know that when it comes to cleaning your headlights thoroughly, you should use anything between 400 to 600 grit silicon carbide sandpaper for best results in eliminating the first layer of any headlight oxidation. Thereafter, you will require at least 800 to 1000 grit carbide sandpaper followed by 3000 to 5000 grit sandpaper to achieve the best possible results.
Toothpaste can also effectively eliminate any stains from your headlight much as it does remove unnecessary particles from between the crevices of the teeth. This happens because toothpaste, or even gel and other whitening agents, contains a subtle abrasive which buffs out any dirty surface for a more smooth feel and appearance, which implies cleaner headlights too.
What general items can you use to clean headlights?
Certain substances must be available in cleaning dirty headlights. Some of these substances include; toothpaste, baking soda, soap, various grit carbide sandpaper from about 400 to 5000 grits. You will also need a very clean cloth, painter's tape, water, toothbrush, and a bowl or any container for preparing the mixture easily.
What is the best way to clean headlights?
One of the best ways to clean headlights is by using homemade headlight cleaner. Making the best homemade headlight cleaner at home is indeed very fast and easy, as long as you have the necessary ingredients and knowledge to go about the entire procedure.
First, mix up the baking soda along with vinegar in a small clean bowl. If you apply this mixture in small circular and side to side movements, it will eventually get your headlights to appear very clean indeed. Alternatively, you can also make these headlights cleaner with only baking soda and a damp, clean, piece of cloth. This will also effectively clear any hazy or dirty headlights too.
How can you make the best homemade headlights cleaner?
The best and cheapest way to clean headlights is through the use of a mixture of baking soda and some toothpaste. Simply mix them up together. Mixing these two will make the mixture gritty enough to be able to do the job satisfactorily.
To ensure a more thorough cleaning of the headlights, soak the sandpaper in warm soapy water first, which you will later use to scrub the headlights. After doing this, you will surely see dirty water coming out of the headlights but wait until the end before you can appreciate the thoroughness of your efforts.
What is the best headlight cleaner you can use?
Arguably, the best and most effective headlight cleaner is the mixture of vinegar and baking soda, which is an impressive DIY alternative for cleaning dirty or foggy headlights. Specifically, household vinegar is most effective in dissolving dirt,  grime, grease, and other debris that might have stuck to your headlights.
What is the cheapest way to clean headlights?
Without any doubt, the cheapest and yet most effective way to clean your vehicle headlights is a mixture of vinegar, toothpaste, and baking soda (when combined in the correct proportions).  Simply apply this cleaning mixture to your headlights while making circular and side-to-side movements. If you do this, you will surely see the dirty or muddied water coming out of your headlights.
This is quite impressive since getting the needed mixture will cost you little or nothing at all, a fact which contrasts sharply with using a factory-made headlight cleaner.
What is the cheapest item to use in cleaning your headlights?
Still, the cheapest items to use in cleaning your vehicle headlights are such substances as water, ordinary washing soap, toothpaste, vinegar, and washing soda, along with a toothbrush and a piece of clean cloth for wiping off any leftover moisture at the end of the process, to give your headlights that impressive and appealing shine you so much desire. This is primarily because the mixture is very abrasive enough, such that it can remove fog or dirt without necessarily scratching or causing any damage to the headlights.
Other polishing chemicals like Rain-X can also be as effective too when it comes to removing the damage from UV rays on the headlights.
What works best to clean your headlights?
One of the best cleaning agents for your dirty headlights is Rust-oleum Wipe, which can restore the lost gloss of any dirty headlights. Others are Ceratoke Ceramic Headlight Restoration Kit, Mother's NuLens Headlight Renewal Kit, and Meguiar's Heavy Duty Headlight Restoration Kit, among so many others. Some of these compounds may affect your hands when handled. Therefore, you are advised to use protective hand gloves while handling them during headlight washing.
However, for any DIY headlight cleaning, you should best stick to your effective mixture of baking soda, toothpaste, vinegar, and warm water. Whichever one of these chemicals or substances you may choose to use, they will surely give the much-desired polish to your hitherto dirty and repulsive-looking headlights.
What household items can you use to clean your headlights?
Common household items used in cleaning vehicle headlights very effectively are clean warm water, toothpaste, baking soda, vinegar, and toothbrush. Simply mix them in the required proportion and scrub away. When mixed, they produced a mixture with enough grit to take off most dirt that is stuck to your headlights, thereby giving a shiny new appearance and brightness of illumination at night.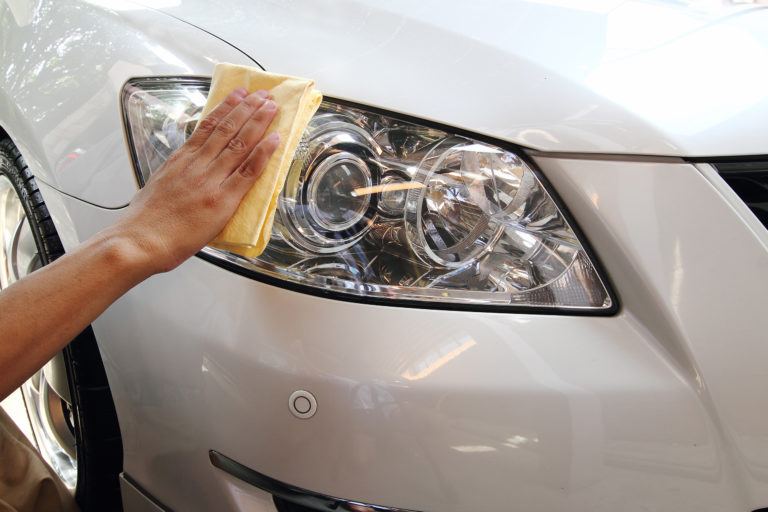 Conclusion
Cleaning of headlights becomes inevitable if so much dirt has stuck to your headlights such that their illumination is far from enough to give the illumination you need for safe driving, especially at night. Whenever so much grime or dirt clings to the surface of your headlights, there is the tendency for this dirt to dull its illumination such that your visibility is impaired.
Fortunately, you have several options for their restoration, either through commonly available household items or the use of factory-provided restoration kits, which the article has discussed earlier. Whichever one of them you choose, there is the guarantee that your headlights will be as good as new once again.
Disclaimer
Hi, just letting you know that all products recommended here have been used by me, or are properly researched to ensure they are the best you are getting without bias.
I am also an affiliate for certain Amazon products and this means that some links here are affiliate links. If you purchase an item through any of them, I MAY earn a commission at no extra cost on you.